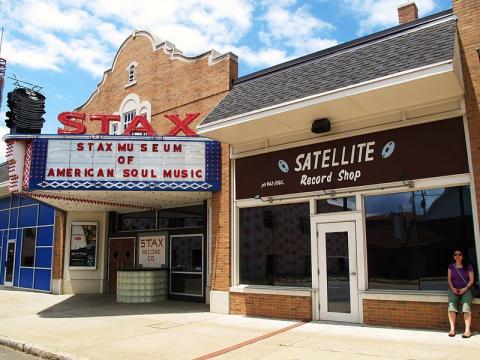 In the 1950's there was a record label in Memphis called Satellite Records. Its founders were Jim Stewart and his sister Estelle Axton. They moved their business to the old Capitol Theatre and in 1961 Stewart took the first two letters of his last name and the first two letters from his sister's last name and made a new label called STAX Records. Their design for their logo was a falling stack of records.
Jim Stewart was born in 1930 in Middleton, Tennessee, he went into the Army and was in the Special Services where he played the violin, he studied Business at Memphis State and graduated in 1956. His intention was to be a banker but while working in a bank, he still played fiddle in Western swing bands around Memphis. His older sister, Estelle Axton, worked as a teller at the Union Planter's Bank in Memphis.
Jim Stewart began fooling around recording music in a garage around 1957 and he put out his first record in 1958, a country and western song named "Blue Roses" by a disc jockey named Fred Bylar. The record label was called Satellite (probably because Sputnik, the Russians' first artificial earth satellite, was launched in October, 1957, and dominated the news). In 1958, Estelle became involved when Jim Stewart asked her to invest in his record company, she took out a second mortgage on her home and they bought new recording equipment. The label was located in Brunswick, Tennessee in an old storehouse. In 1960, they moved the label back to Memphis to an old movie theater on East McLemore. Estelle ran a record shop in the front of the building. They recorded a local disc jockey named Rufus Thomas, who had had a minor hit with Sun Records earlier called "Bearcat". Rufus and his 17 year old daughter Carla recorded a duet titled "Cause I Love You" and it became a local hit in Memphis. The song came to the attention of Jerry Wexler, who was Vice President of Atlantic Records, he leased the record and obtained a five year option for future Satellite product for $5000. After "Cause I Love You", Carla Thomas recorded a song she had written called "Gee Whiz". The record came out on Satellite, but Wexler immediately claimed it for Atlantic, and it was released nationally on Atlantic. "Gee Whiz" went to Billboard #5 and became the first big national hit for Jim Stewart and Estelle Axton.
Estelle Axton's son Packy played tenor sax in a rock and roll band named the Royal Spades. Along with Packy was Steve Cropper on guitar, Charlie Freeman on guitar, drummer Terry Johnson baritone sax player Don Nix and bassist Donald "Duck" Dunn. This group became the Mar-Keys and recorded an instrumental named "Last Night" which became the next big hit for Jim and Estelle. When this song started up the charts, Jim Stewart became aware of another record company in California called "Satellite" so rather than risking litigation, the name of the company was changed to "Stax", the ST from Stewart and the AX from Axton.
A young piano player named Booker T. Jones lived in the neighborhood near the Stax studio, and started hanging around. He joined up with Steve Cropper and Duck Dunn from the Mar-Keys and with Al Jackson and they became the backbone of the "Stax Sound". They also recorded on their own as Booker T. and MG'S (standing for Memphis Group) and soon had a giant hit named "Green Onions". Steve Cropper became an important producer for Stax and both wrote songs and produced many other acts for Jim Stewart.
In 1962, Johnny Jenkins came to the Stax studio to record a single for Atlantic. When the recording session for Jenkins turned into a disaster, they used the last half hour of studio time to record Jenkin's 21 year old driver, Otis Redding. He recorded a ballad he had written called "These Arms of Mine". "These Arms of Mine" was released in October of 1962 on Stax's new rhythm and blues subsidiary named Volt. It made the charts in March of 1963 and in September of 1963, Otis came back into the Stax studio and recorded "Pain In My Heart" which became an even bigger hit.
With the success of Booker T. and the MG'S, Carla Thomas, the Mar-Keys and Otis Redding, Stax studios became a magnet for other acts. Atlantic Records brought in two of their recording acts, the duo Sam and Dave and Wilson Pickett, to Memphis to record at the Stax studio. Stax Records itself had added William Bell, Eddie Floyd, the Mad-Lads and a top notch producing and song writing duo named Isaac Hayes and David Porter. In 1965 Stewart hired a very successful black Washington DC disc jockey named Al Bell as national sales director. From the beginning, Al Bell took over the effective leadership of the company and greatly expanded it's roster of artists.
 
On December 10, 1967, Otis Redding was killed in a plane crash and had his biggest hit, "(Sittin' On) The Dock of the Bay," posthumously. Shortly after losing their most important artist, the distribution deal Stax had with Atlantic was to expire and had to be renegotiated. To the horror of Jim Stewart, he found out that the original contract had given Atlantic the ownership of all of the Stax masters. Atlantic owned the entire Stax catalog! The negotiations dragged on for several months, but Stax had no leverage, since Atlantic already owned their catalog. Instead of giving up and signing with Atlantic, Stewart sold the company in May 1968 to Gulf and Western for several million dollars. At this point the Stax numbering system was changed. The most successful act on Stax/Volt other than Otis Redding was Sam and Dave, even though Sam and Dave's material was being released on Stax, their contract was with Atlantic so they were no longer on Stax.
Even with the loss of Otis Redding and Sam and Dave, the company did very well without Atlantic. They had additional hits by Booker T. and the MG'S, Johnnie Taylor, and William Bell. Stax had formed a subsidiary label called Enterprise in 1967 and released an album by one of their producers named Isaac Hayes called "Presenting Isaac Hayes" but it was not very successful. After the break with Atlantic, Hayes made another album called "Hot Buttered Soul" and it went triple platinum.
After a couple of years, sales were down and there were internal troubles at Stax. External pressure was coming from Gulf and Western who really didn't have a clue about the creative aspects of a record company. Jim Stewart thought he could rescue the company and he and Al Bell repurchased the company from Gulf and Western in July 1970. At this point, the numbering system changed again. Soon the company was challenging Motown for the lead in black album sales, with new artists such as the Soul Children, the Staple Singers, Frederick Knight, Jean Knight, Rance Allen, Mel and Tim and the Emotions. Richard Pryor was signed to the company and had a giant debut album called "That Nigger's Crazy" on Partee, the comedy subsidiary. Other new subsidiary labels were also formed including Gospel Truth, Hip and Respect.
In 1972, Al Bell made a deal with Columbia Records for the distribution of Stax product. Columbia gave Stax a six million dollar loan for expansion. In October of 1972, Al Bell used the money to buy out Jim Stewart. Even though he no longer owned the company, Stewart agreed to stay on as President for up to 5 years, but Al Bell ran the company. The handshake deal between Al Bell and Clive Davis, President of Columbia Records called for Columbia to pay Stax for every record it delivered, irrespective of sales, an unheard of agreement. In 1973, Clive Davis was fired and Columbia altered the deal, cutting the payments to Stax by 40%. This led to the financial decline of the label and in January 1975, Stax was unable to meet it's payroll and a bankruptcy judge ordered the it's closing on January 12, 1976.
The Stax masters prior to 1968 are owned by Atlantic Records, but the Stax masters produced after the split with Atlantic are now owned by Fantasy Records of San Francisco.
In 1973 Elvis needed to record more material to fulfill his contract obligations with RCA. He wasn't much in the mood to record as he hadn't been well, and he dreaded going back into the studio. His friend Marty Lacker, who had been instrumental in Elvis recording at American Sound Studio in Memphis four years earlier, was working at STAX. Since it was so close to Graceland, Marty got Elvis to agree to record there.
His first sessions there were in July 1973 and produced the singles "I've Got A Thing About You Baby", "Take Good Care of Her", "Raised On Rock" and "For Ol' Times Sake", as well as other songs that ended up on the album "Raised On Rock".
His second sessions at STAX took place in December 1973. It was during these sessions that many of the tracks for the albums "Promised Land" and "Good Times" were recorded. These included such songs as "It's Midnight", "Mr. Songman", "Love Song Of The Year", "My Boy", "Good Time Charlie's Got The Blues", "Your Love's Been A Long Time Coming" and many more.
STAX Records went out of business and, sadly, the building was torn down in 1989. A Memphis civic group took the remaining letters of the Stewart and Axton names and formed Ewarton, a group with the goal of creating a STAX museum on the same property where the studio once stood. Ewarton later became Soulsville and, in 1997, announced plans to build the STAX Museum of American Soul Music and STAX Music Academy.
Just recently the STAX sign was turned back on and soon the new building will be dedicated. It houses the museum with much of the old original recording equipment and a teaching and performing facility. It is hoped that many students will benefit from the music academy.